When to ask for an app review
One of my favourite weather apps is called RadarUS. After using it for a week, every time I would open it I would get this dialog: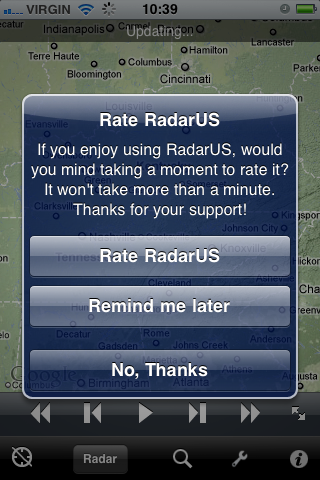 Now, I love the app, and I would be happy to give them 5-stars and maybe even a quick review, but this request to review the app is only displayed at launch, which is exactly the wrong time to be ask. I opened the app because I want to use it – not rate it.
The developer clearly realized that this might not be the right time to ask, so they allow users to dismiss the alert, but have it come back again. But the problem remains, as the app will just ask me later at the exact same wrong time. I've hit "Remind me later" probably 30 times now.
Improvements
So, how could the prompt to review be improved? Well, first, there should be a way to review the app when I want to. That could be as simple as a button in 'help' or 'about' screens. But a better solution would be to ask the user to review after they've used the app to achieve some goal. For example, after they have dismissed a modal weather alert or 10 seconds after the radar animation has played.
And I would wager that a side effect of asking users to review after they've done something will not only result in more reviews, but more positive ones.
Permanent link to this post: http://xinsight.ca/blog/when-to-ask-for-a-review/
---
Older: Tracking keyword ranking and improving findability in the Android Marketplace
Newer: Locations App - iOS source code for sale
---
View Comments
Related Posts
Recent Posts